Prestigio introduced iPhone 3GS and iPod Touch 2G* protective cases . These protective cases are the first but not the last products made for Apple to be added to Prestigio's portfolio. Triple-patended cases are elegant accessories designed to optimize the usability and functionality of modern and stylish Apple devices. The lineup consists of 10 diffferent looks in genuine leather and quality PU material, and with various textures such as nubuck, snake, crocodile or carbon fiber patterns.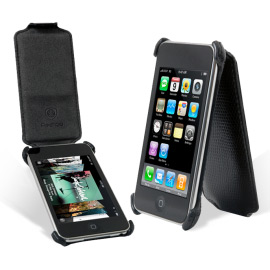 The design of the protective cases is simple and elegant, and offered in different colors, textures and materials to suit customer's personal style. The cases feature a rigid, easy to snap-on frame, as well as the necessary padding to keep iPhone 3GS and iPod Touch 2G snug and secure, yet with all controls and ports easily accessible.
Prestigio's protective cases do not only look good, but they are also very practical with three patented functions for a complete solution: The case protects the precious device´s surfaces, ports and controls from dust and impact; the case's interior is made of a soft, cleaning material for the screen; and the case's front flap can be used as an easy stand for the device.
More information on the protective cases is available at:
http://www.prestigio.com/products/Apple-accessories/Protective-cases/iPod-iPhone-protective-case
*iPhone and iPod are products & trademarks of Apple Inc.