Apple unveiled a completely redesigned Mac mini, featuring up to twice the graphics performance, a new HDMI port and a new SD card slot, all in an amazingly compact aluminium enclosure. Mac mini is the world's most energy efficient desktop and the most affordable way to enjoy Mac OS X, iLife or Mac OS X Snow Leopard Server.
"The sleek, aluminium Mac mini packs great features, versatility and value into an elegant, amazingly compact design", said Philip Schiller, Apple's senior vice president of Worldwide Product Marketing. "With twice the graphics performance, HDMI support and industry-leading energy efficiency, customers are going to love the new Mac mini".
Created with the unibody construction process pioneered by Apple, the new Mac mini features a compact aluminium enclosure just 7.7-inches square and 1.4-inches thin. A new integrated power supply eliminates the need for an external power adapter, reducing overall system volume by 20 per cent and keeping cable clutter to a minimum. A removable panel underneath provides quick access for memory expansion. Mac mini is incredibly versatile, effortlessly connecting to existing peripherals such as mice, keyboards and digital displays, while the new HDMI output connects Mac mini to an HDTV and the new SD card slot enables easy transfer of photos and videos from a digital camera.

Inside its sleek, compact enclosure, the new Mac mini includes the fastest integrated graphics processor on the market today. With 48 processing cores, the NVIDIA GeForce 320M graphics processor delivers up to twice the graphics performance of its predecessor, making Mac mini ideal for graphics intensive applications or visually rich games. Mac mini comes standard with a 2.4 GHz Intel Core 2 Duo processor, 320GB hard and 2GB of RAM.
With twice the graphics performance, the new Mac mini is still the world's most energy efficient desktop. The new Mac mini reduces power consumption by an incredible 25 per cent to less than 10W at idle, less than half the power required by competing systems. Mac mini meets Energy Star 5.0 requirements and achieves EPEAT Gold status. The new aluminium enclosure is highly recyclable and Mac mini uses PVC-free internal components and cables, contains no brominated flame retardants and features material-efficient system and packaging designs.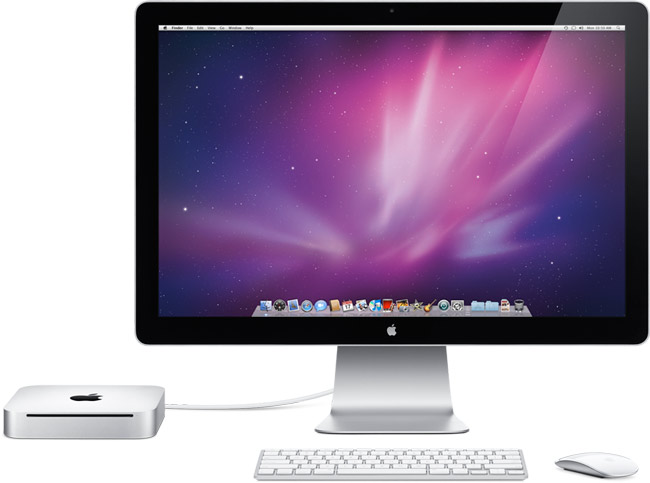 Mac mini comes with Mac OS X Snow Leopard, the world's most advanced operating system, and iLife, Apple's innovative suite of applications for managing photos, making movies and creating and learning to play music. Snow Leopard builds on a decade of OS X innovation and success with hundreds of refinements, new core technologies and out of the box support for Microsoft Exchange. iLife features iPhoto, to easily organize and manage photos; iMovie with powerful easy-to-use new features such as Precision Editor, video stabilization and advanced drag and drop; and GarageBand which introduces a whole new way to help you learn to play piano and guitar.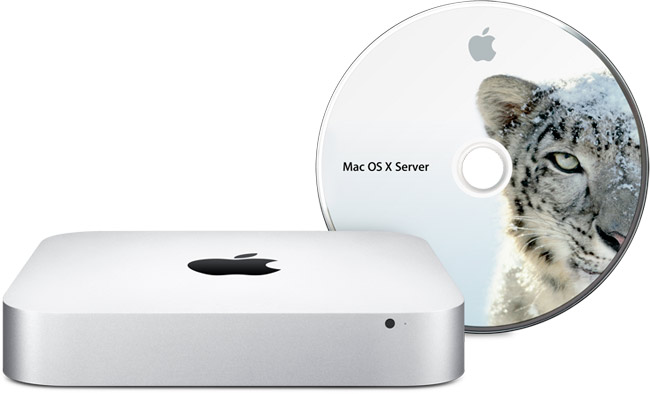 Mac mini with Mac OS X Snow Leopard Server fulfills all the server needs of a workgroup or small business including email, calendar, file serving, Time Machine backup, Wiki Server, Podcast Producer and more. Mac mini with Mac OS X Snow Leopard Server uses less than 11W of power at idle, a fraction of the power consumed in comparison to typical entry-level tower servers. Mac mini with Mac OS X Snow Leopard Server is faster than before with a 2.66 GHz Intel Core 2 Duo processor, two 500GB hard drives now running at 7200 rpm, 4GB of RAM and supports unlimited clients.