Apple updated the Mac mini with next generation Intel core processors, new discrete graphics, high-speed Thunderbolt I/O technology and Lion, the world's most advanced operating system. The new Mac mini delivers up to twice the processor and graphics performance of the previous generation in the same amazingly compact and efficient aluminium design.
"Mac mini delivers the speed and expandability that makes it perfect for the desktop, living room or office", said Philip Schiller, Apple's senior vice president of Worldwide Product Marketing. "With faster processors, more powerful graphics and Thunderbolt in an incredibly compact, aluminium design, the new Mac mini is more versatile than ever".
At just 7.7-inches square and 1.4-inches thin, the new Mac mini maintains its compact aluminium design while delivering amazing performance and graphics capabilities. Available in three different configurations, customers can choose a Mac mini with the latest dual-core Intel Core i5 or Intel Core i7 processors, AMD Radeon HD 6630M discrete graphics, or a quad-core Intel Core i7 powered server configuration. Designed without an optical disc drive, Mac mini can access the optical drives on other PCs and Macs, and works with the MacBook Air SuperDrive. Configure-to-order options include up to 8 GBs of memory, a faster 7200 RPM hard drive and a 256GB solid state drive.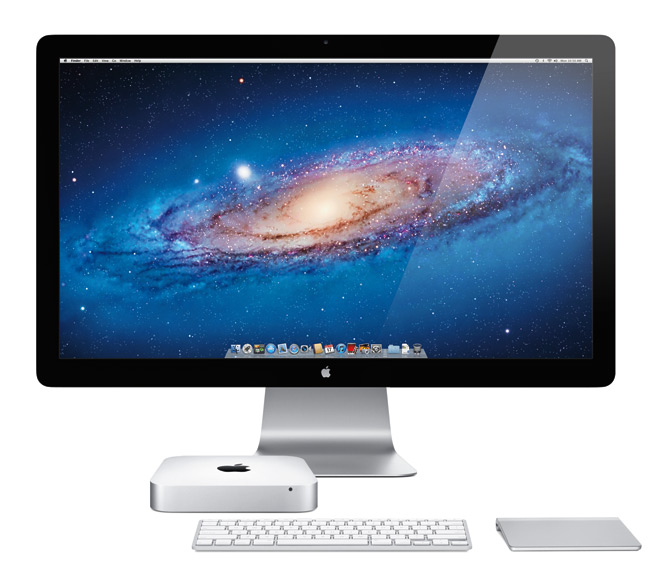 Mac mini now comes with Thunderbolt I/O technology for expansion possibilities never before available to Mac mini users. With a Thunderbolt port, Mac mini can connect to peripherals such as high-performance storage devices, RAID arrays and the new Apple Thunderbolt Display, a stunning 27-inch IPS widescreen display that's great for making FaceTime HD video calls, surfing the Web and viewing movies and photos.
With ultra-fast Wi-Fi, you can wirelessly download apps from the Mac App Store, get music and movies from iTunes, back up data to Time Capsule and share files with AirDrop, which makes transferring files quick and easy. Mac mini includes Bluetooth for wireless peripherals and four USB ports for easy connectivity for the wired and wireless devices you use every day.
The new Mac mini remains the world's most energy efficient desktop, meets Energy Star 5.2 requirements and achieves EPEAT Gold status. Mac mini has a highly recyclable aluminium enclosure, PVC-free components and cables, no brominated flame retardants and features material-efficient system and packaging designs.
Every new Mac mini comes with Mac OS X Lion, the latest major release of Mac OS X, the world's most advanced operating system, and iLife apps for creating and sharing great photos, movies and music. Lion introduces more than 250 new features to the Mac, including Multi-Touch gestures and system-wide support for full screen apps; Mission Control, an innovative view of everything running on your Mac; the Mac App Store, the best place to find and explore great software; Launchpad, a new home for all your apps; and a completely redesigned Mail app.