For the first time, users will be able to draw, sketch or write with Apple Pencil directly in the Pages, Numbers and Keynote apps. With Apple Pencil, advanced yet easy-to-use tools allow all users, from students to professionals, to bring their documents to life with drawings, illustrations, diagrams and more. Apple Pencil can also be used to easily and precisely add colour, texture and more to any drawing.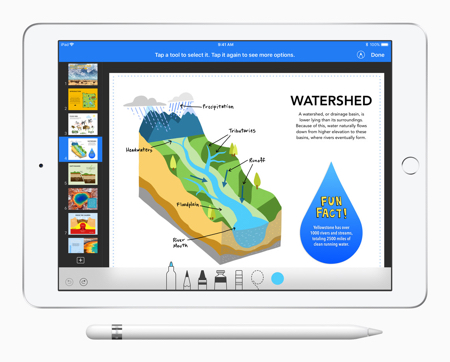 Smart Annotation, launched today in beta, is an innovative new tool in Pages that allows users to easily give, receive and incorporate feedback in a document using Apple Pencil. With Smart Annotation, comments and proof marks will dynamically anchor to text. And as a user integrates feedback and the document changes, remaining annotations will stay with the text they were attached to.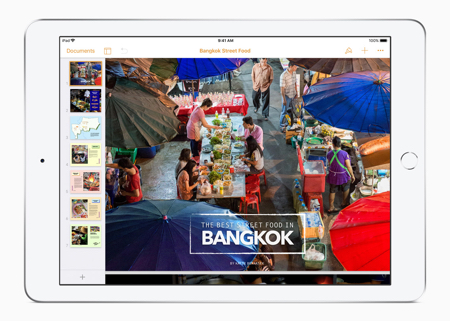 Book creation is now possible in Pages for iOS and macOS, making it easy for anyone to create fun, interactive digital books, from short stories to travel books. Users can start a book using a variety of templates, and then customise it with drawings using iWork's new drawing tools or with image galleries and videos from their Photos library. Users can collaborate in real time with their classmates or colleagues to create books together on iPad, iPhone, Mac and iCloud.com. Books can then be shared and will display beautifully in iBooks.
Additional new features include Presenter Mode in Pages, allowing users to transform their iPad or iPhone into a virtual teleprompter for distraction-free reading. The text can auto scroll at an adjustable speed, and text size, spacing, font and background colour are all customisable during text playback. Integration with Box lets users collaborate in real-time in Pages, Numbers and Keynote documents stored in Box.
Availability
Pages, Numbers and Keynote on iOS and Mac are free and come preloaded onto most devices. Updates are available to download on the App Store and Mac App Store.