Apple updated MacBook Air with faster processors, making the perfect everyday notebook an even better value. MacBook Air features powerful processors, fast flash storage, 802.11ac Wi-Fi, up to 12 hours of battery life and Apple's iLife and iWork apps, giving you everything you need to handle all your work, all day long.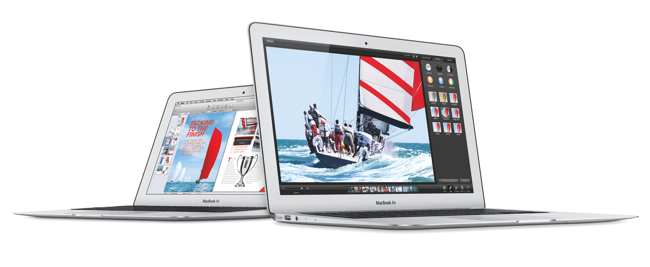 Power-efficient fourth generation Intel Core i5 and Core i7 processors work in conjunction with OS X Mavericks to give the 13-inch MacBook Air up to 12 hours of battery life and the 11-inch MacBook Air up to 9 hours of battery life. iTunes movie playback times increase to 12 hours on the 13-inch notebook and 9 hours on the 11-inch notebook, adding up to two hours of playback time to the updated MacBook Air.* Flash storage makes MacBook Air extremely responsive, whether you are working on presentations, streaming movies and music from iTunes or organising your photo library.
* The Wireless Web protocol testing was conducted by Apple in April 2014 using preproduction MacBook Air configurations. Battery life and charge cycles vary by use and settings. For more information visit www.apple.com/uk/macbook-air.