The updated iMacs also feature more powerful processors and graphics, two Thunderbolt 2 ports and new storage options that make the high-performance Fusion Drive even more affordable.
With Retina display, text appears sharper than ever, videos are unbelievably lifelike and you can see new levels of detail in your photos. The 21.5-inch iMac is available with the all-new Retina 4K display featuring an amazing 4096 x 2304 resolution and 9.4 million pixels, 4.5 times more than the standard 21.5-inch iMac display. Every 27-inch iMac features a Retina 5K display, the world's highest resolution all-in-one display with a stunning 14.7 million pixels, 7 times more pixels than an HD display. With a Retina display now on the 21.5-inch iMac and every 27-inch iMac, iMac with Retina display is more affordable than ever.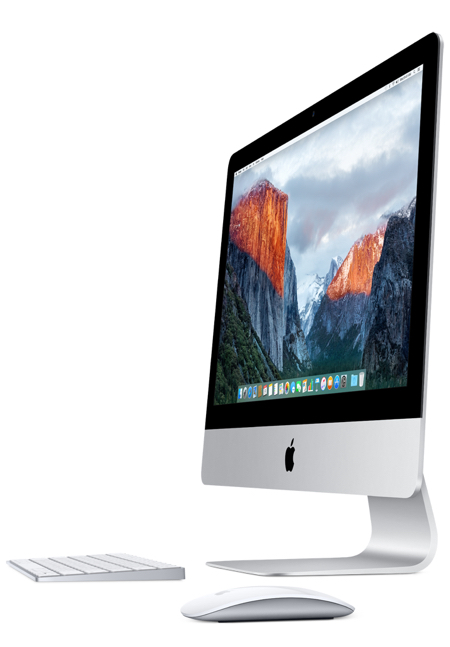 The new Retina displays feature a wider colour gamut that brings more brilliant and true-to-life colours to your desktop. With standard sRGB-based displays, many of the colours you see in real life never make it to your screen. The new Retina 5K and 4K displays feature a wider P3-based colour gamut that provides a 25 percent larger colour space, and with more available colours, images are more vivid, reveal even greater detail and appear more lifelike than ever.
Faster and more powerful than ever, the new 27-inch iMac with Retina 5K display now comes with sixth-generation Intel Core processors and the latest AMD high-performance graphics that deliver up to 3.7 teraflops of compute power. The new 21.5-inch iMac with Retina 4K display features a fifth-generation Intel Core processor and enhanced Intel Iris Pro Graphics. Two Thunderbolt 2 ports now come standard on all iMacs and deliver up to 20Gbps data transfer speeds for external drives and high-performance peripherals. And three stream 802.11ac Wi-Fi allows iMac to support up to 1.3Gbps wireless networking.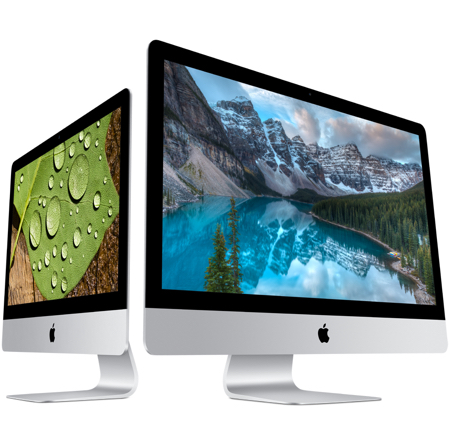 Fusion Drive combines the large storage capacity of a hard drive with the high performance of flash to deliver shorter boot times and faster access to apps and files. Fusion Drive works in conjunction with OS X to adapt to the way you use your iMac and automatically moves the files and apps you use most often to flash storage. The incredible performance of Fusion Drive is now more affordable with a new, lower-priced configuration that pairs a 1TB hard drive with 24GB of fast flash. Fusion Drive is also available with 2TB and 3TB configurations with 128GB of fast flash for more demanding workloads. For the ultimate in storage performance, optional all flash storage is available up to 1TB and is now up to 2.5 times faster.
Every new Mac comes with OS X El Capitan, the latest version of OS X that refines the Mac experience and improves system performance. El Capitan builds on the groundbreaking features and beautiful design of OS X Yosemite, with updates to window management, built-in apps and Spotlight search, and performance improvements to make everyday activities — like launching and switching apps, opening PDFs and accessing email — faster and more responsive. El Capitan was specifically designed for the Retina display and features a new system font called San Francisco that has been fine-tuned for optimal readability on a Retina display.
iMovie, GarageBand and the suite of iWork apps come free with every new iMac. iMovie, updated today to support 4K video, lets you easily create beautiful movies, and you can use GarageBand to make new music or learn to play piano or guitar. The iWork suite of Pages, Numbers and Keynote makes it easy to create, edit and share stunning documents, spreadsheets and presentations. Pages, Numbers and Keynote for iCloud let you create a document on iPhone or iPad, edit it on your Mac and collaborate with friends, even if they are on a PC.