Available this autumn, this software update introduces the breakthrough Breathe app, designed to encourage users to take a moment in their day to do deep breathing exercises for relaxation and stress reduction. The Activity app now includes the ability to share, compare and compete as well as enabling wheelchair users to close their Activity rings.
Instant Performance & Simple Navigation
It is easier and faster than ever to perform common tasks with watchOS 3, including replying to a message, starting a Workout or skipping a song. By pressing the side button, users can access the new Dock with their recent and favourite apps. Right from the Dock or the watch face, users can launch their favourite native and third-party apps instantly and have the latest information in the app already updated and ready for viewing. Similar to iOS, users can swipe up from the watch face for the new and improved Control Center, continue to swipe down for Notification Center and swipe left or right to easily switch out a watch face.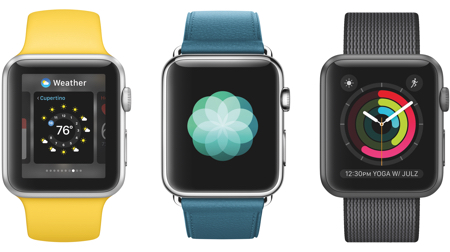 Fitness & Health
Motivation through social engagement is an important factor in changing fitness and health behaviour, and now with watchOS 3, it's possible to share, compare and compete with friends, family or even a personal trainer. Users receive notifications about their friends' progress, including completed Activity rings, finished workouts and earned achievements. Activity sharing is now directly connected to the Messages app, so users can communicate, motivate and celebrate with friends and family with new Smart Replies specially customised for Activity and Workouts. In watchOS 3, the Activity app experience is now optimised for wheelchair users. Wheelchair pushes contribute to all-day calorie goals, the "time to stand" reminder is now "time to roll" and there are dedicated wheelchair-specific workouts.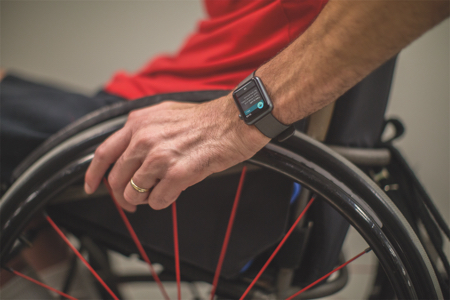 The all-new Breathe app encourages users to take moments in their day to do short deep breathing sessions. The beautiful, calming visualisation and haptic cues guide users through deep, full breaths in sessions lasting one to five minutes and on completion, they will receive a heart rate summary.
All-New Communication
Receiving and quickly replying to messages is more powerful and expressive in watchOS 3 with stickers, handwriting, full-screen effects and invisible ink, which reveals the message only after a friend swipes over it. Smart Replies are even faster as they are now available right in the message notification. When a more custom reply is needed, the new scribble feature allows users to quickly write words on the display and Apple Watch will convert the handwriting to text.
SOS in watchOS 3 enables people in critical situations around the world to initiate a call with emergency services through their iPhone or while on Wi-Fi, and notify their emergency contact by simply pressing and holding the side button.
Watch Faces
Apple Watch is even more personal with new watch faces including Minnie Mouse, Activity and the simple and elegant Numerals. Even more apps can launch straight from the watch face including Workout, Music or Messages. Users can also now add complications to the Photo, Motion or Timelapse watch faces. It's easier to customise watch faces and discover third-party apps with the new Faces Gallery in the Watch app on iPhone.
Availability
watchOS 3 will be available this autumn as a free update to Apple Watch. Apple Watch requires iPhone 5 or later running iOS 8.2 or later. WatchKit for watchOS 3 is available immediately for iOS Developer Program members at developer.apple.com. For more information, visit apple.com/watchos-preview. Features are subject to change. Some features may not be available in all regions.