The new larger iPad Pro is thin and light and provides all-day battery life. There are more than 850,000 apps in the App Store designed specifically for iPad, and the new iPad Pro will enable a new generation of advanced apps for everything from productivity, design, illustration, engineering and medical, to education, gaming and entertainment.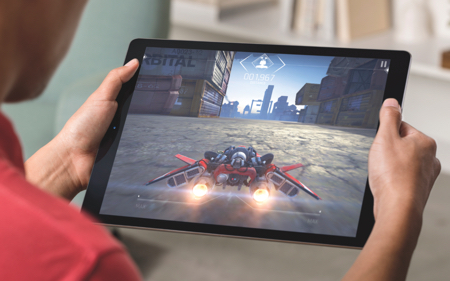 Apple also introduced Apple Pencil for iPad Pro, a precision input device available for purchase separately, which makes drawing and sketching feel remarkably fluid and natural. The touch subsystem of the Multi-Touch display in iPad Pro has been redesigned to work with Apple Pencil to dramatically reduce latency and deliver incredible accuracy for activities like fine art illustration and detailed 3D design. Advanced sensors in Apple Pencil measure both pressure and tilt for a fast and fluid drawing experience, while a built-in Lightning connector makes for quick and easy pairing and charging. Apple Pencil also works with popular apps like Mail, Notes, Procreate and Office 365 for iPad, offering new levels of creativity and productivity.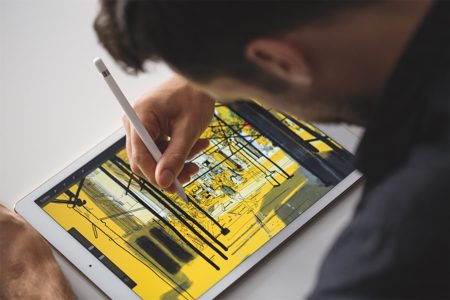 Apple's new Smart Keyboard further extends the utility of iPad Pro, offering a full-sized keyboard in a thin, durable design so you can take it anywhere. The Smart Keyboard, available for purchase separately, attaches to iPad Pro's innovative Smart Connector port, eliminating the need for a separate battery, on/off switch or Bluetooth pairing. The Smart Keyboard is covered in custom woven fabric and features keys that provide the accuracy, stability and satisfying key feel of standard keyboards, but is also easily foldable and can transform into a Smart Cover. The Smart Keyboard also works seamlessly with new QuickType features in iOS 9 to make typing even faster and easier.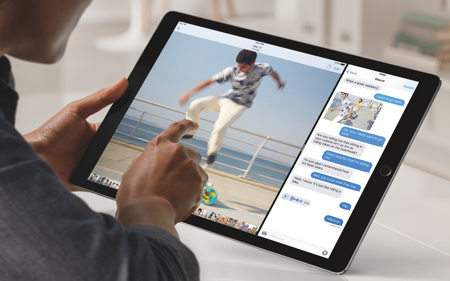 Innovative Design
iPad Pro's 12.9-inch Retina display, with 5.6 million pixels and refined Multi-Touch technology, is the most advanced and highest resolution display ever in an iOS device. It delivers greater contrast, more uniform brightness and improved energy efficiency through photo alignment technology, oxide TFT and variable refresh rate. A new four-speaker audio design provides powerful, clear and rich stereo sound, and a refined unibody enclosure of anodised aluminium gives iPad Pro a sturdy feel with a thin and light design that is easy to hold.
Powerful Technology
iPad Pro delivers groundbreaking performance and energy efficiency, so you can tackle the most demanding tasks. Apple's powerful new 64-bit A9X chip, with third-generation 64-bit architecture, provides desktop-class CPU performance and console-class graphics. Ultra-fast wireless connectivity keeps you connected wherever you go with 802.11ac Wi-Fi with MIMO technology, support for a wide range of LTE bands and other fast cellular network technologies (DC-HSDPA, HSPA+).* All-day 10-hour battery life** delivers the efficiency that users have come to expect from iPad.
iOS 9
iOS 9, the world's most advanced mobile operating system, brings more intelligence to iPad with proactive assistance, powerful search and improved Siri features, all while protecting users' privacy. New multitasking features designed specifically for iPad allow users to do more at the same time, while built-in apps become more powerful with a redesigned Notes app, detailed transit information in Maps and an all-new News app*** for the best news reading experience on any mobile device. The foundation of iOS is even stronger with software updates that require less space to install and advanced security features to further protect your device.
Pricing & Availability
iPad Pro comes in three gorgeous metallic finishes including silver, gold and space grey and will be available starting in November from Apple.com, Apple's retail stores, through select carriers and Apple Authorised Resellers. For more information, please visit http://www.apple.com/uk/ipad.
Smart Keyboard will be available in charcoal grey. New polyurethane iPad Pro Smart Covers will be available in charcoal gray and white. New iPad Pro Silicone Cases will be available in charcoal grey and white. iPad Pro accessories including Apple Pencil will be available starting in November. Pricing will be announced at availability.
*Data plan required. LTE is available in select markets and through select carriers. Speeds vary based on site conditions. For details on LTE support, contact your carrier and see http://www.apple.com/ipad/LTE
**Battery life depends on device settings, usage and other factors. Actual results may vary.
***Transit information in Maps will be available in select major cities including Baltimore, Berlin, Chicago, London, Mexico City, New York City, Philadelphia, the San Francisco Bay Area, Toronto and Washington D.C., as well as over 300 cities in China, including Beijing, Chengdu and Shanghai. News app availability varies by country.