Apple introduced iPhoto for iPad and iPhone and major updates to iMovie and GarageBand, completing its suite of iLife apps for iOS. iPhoto includes breakthrough Multi-Touch features so you can use simple gestures to sort through hundreds of photos and find your best shots, enhance and retouch your images using fingertip brushes and share stunning photo journals with iCloud.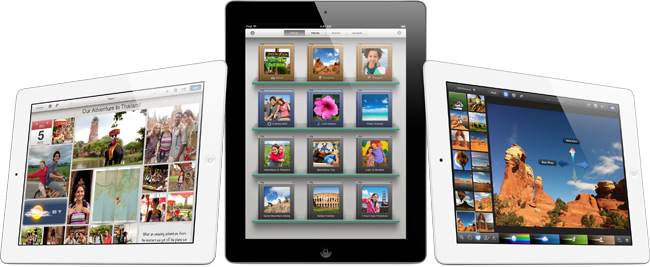 iMovie now gives you the ability to create amazing Hollywood-style trailers as you record HD video on your iPad and iPhone. GarageBand introduces Jam Session, an innovative and fun feature that allows a group of friends to wirelessly connect their iOS devices to play instruments and record live music together. Each app takes full advantage of the stunning Retina display on the new iPad for incredibly sharp and realistic images and video. The new iPad also features a 5 megapixel iSight camera so you can record, edit and watch 1080p HD video all on the device.
Apple today also updated its iWork for iOS apps to take advantage of the stunning Retina display of iPad and to offer 3D charts so you can create and view impressive 3D bar, line, area and pie charts. Pages now includes support for landscape orientation on iPhone and iPod touch, and Keynote gains new builds and transitions including Iris, Shimmer, Wipe, Flame, Swing and Fade Through Color.
Pricing & Availability
iPhoto, iMovie 1.3 and GarageBand 1.2 are available for $4.99 each from the App Store (www.itunes.com/appstore). Keynote 1.6, Pages 1.6 and Numbers 1.6 are available for $9.99 each from the App Store. Updates are available for free to existing customers.