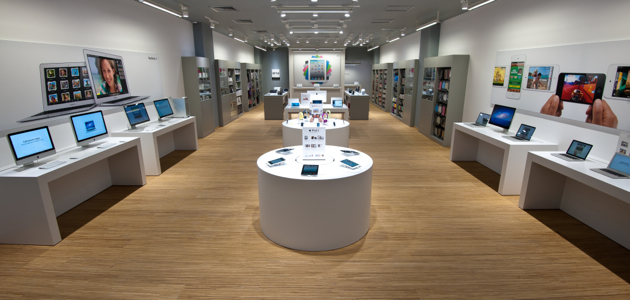 Partner statuses and roles

Apple Premium Reseller (APR) is the best-in-class shop for Apple minded professionals and home users which is approved and designed by Apple. Key vehicle to reach "pro-cumer"customers. Its good location and highly qualified sales are key to success.
Qualifying criteria for APR:
Min 75 sqm show room with a visible window in a commercial area or shopping mall
Min 4 full-time customer facing show-room staff
Offer to end-users service, training, loaner machine for time of repair
Wide range of Apple and 3rd party software and ecosystem products
Marketing activities, new product launches
Weekly Sell Out reporting to Apple/VAD

Apple Authorised Reseller (AAR) – is a basic Reseller authorization status which requires a min number of certified sales and technicians, as well as demo equipment.
Qualifying criteria for AAR:
100 000 Euro min quarterly purchase from the Apple VAD CIS
Min 2 people engaged in Apple sales (1 sales + 1 tech.)
Sales of authorised products only (purchased from the Apple VAD CIS)
Сomply with Apple trademarks and signage policy

Authorised Solution Expert (ASE) must be AAR and have expertise in one or several solution areas (Video, Audio, Design&Print, Education, еtc.)
Qualifying criteria for ASE:
AAR status
Vertical market focus – Education or Creative
Min 60% of overall revenue generated by sales to a vertical market
Min 2 stuff with required technical and product expertise
Demo facilities to demonstrate vertical solutions

Apple Authorised Service Provider (AASP) is a partner which delivers warranty and post-warranty support and has trained and certified personnel; usually AAR/ASE or sometimes this is a specialized service company (for volume products and iPods).
Qualifying criteria for AASP:
AASP has been in operation for a minimum of 2 years and established credit line of at least $25k; all technicians performing Apple repairs are Apple-certified
AASP location is meeting requirements set out by the AASP Requirements; maintains a suitable workshop space in compliance with Apple's standards.

Apple Authorised Training Center (AATC) delivers Apple's proprietary developed courses in approved facilities through certified trainers; courses from Mac OS to all Pro Apps. AATC-E is an Academic training centers built in Universities.

Qualifying criteria for AATC:
Training services delivered by Apple Certified Trainers, in Authorized locations, with use of Authorized training materials
Can be both professional IT training companies and resellers.
Become our partner