Apple announced great new features for both iPod touch and iPod nano. iPod touch will be available in new black and white models including Apple's new iOS 5 and iCloud services. The new iPod nano features a redesigned user interface, 16 new digital clock faces and improved built-in fitness features.
"iPod has revolutionised the way we listen to music and with over 320 million sold is the world's most popular music player," said Philip Schiller, Apple's senior vice president of Worldwide Product Marketing. "iPod touch, now available in both black and white, is the best selling iPod ever, and with iOS 5 and iCloud it is better than ever."
The new iPod touch includes iOS 5, the world's most advanced mobile operating system, which includes over 200 new features including iMessage, Game Center, Notifications and Wi-Fi Syncing to iTunes. iMessage brings the functionality of iPhone messaging to your iPod touch, so you can easily send text messages, photos, videos and contact information to an individual or group on other iOS 5 devices. It also allows you to easily maintain one conversation across all your iOS devices—for free—with notifications, read receipts and typing indication. Game Center enhancements include the ability to add photos to your profile, purchase new games from within the Game Center app, and even easier ways to find friends and new games.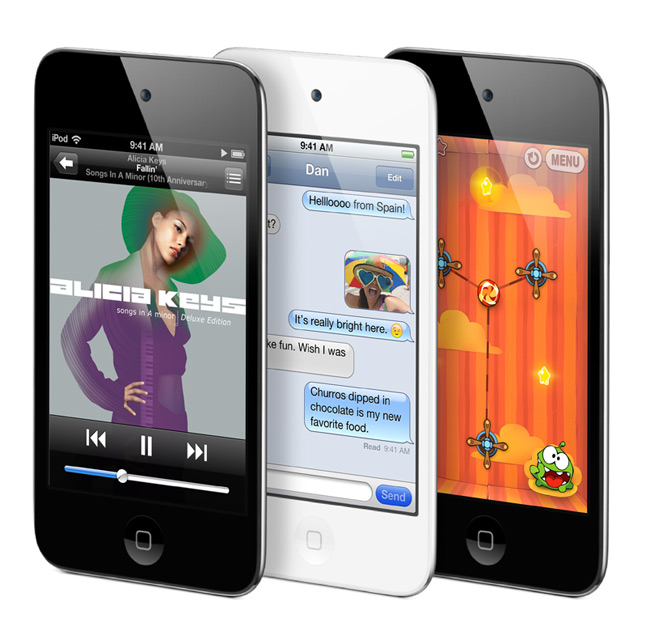 iPod touch also works with iCloud, Apple's breakthrough set of free cloud services, including iTunes in the Cloud, Photo Stream and Documents in the Cloud, that work seamlessly with your iPhone, iPad, iPod touch, Mac or PC to automatically and wirelessly store your content and push it to your devices. When content changes on one device, all your other devices are updated automatically and wirelessly.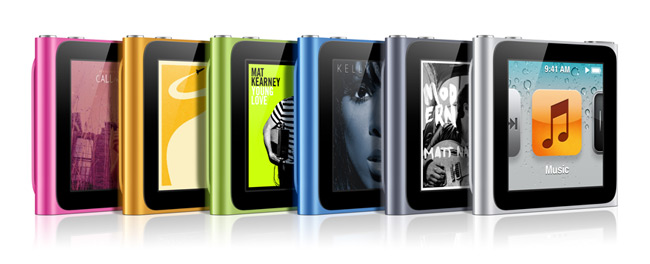 iPod nano now features larger icons for even easier navigation of its intuitive Multi-Touch user interface, and you can choose from 16 new digital clock faces, ranging from classic analog looks to your favorite Disney characters including Mickey Mouse and Minnie Mouse. iPod nano now tracks your runs and walks right out of the box with no accessory required, making it even easier to get your fitness program up and running. iPod nano can track the time, pace and distance of your run, the calories you burn, and the number of steps you walk. iPod nano encourages you with motivational real-time voice feedback during your run, available in seven languages, while listening to your favorite music or FM radio station. You can also easily upload workouts to the Nike+ website to set goals, track your progress and challenge friends. The ultra portable iPod nano is available in seven colors including silver, graphite, blue, green, orange, pink and (PRODUCT) RED.
With the App Store on iPod touch, users have access to the world's largest and best collection of over 500,000 apps, including over 100,000 game and entertainment titles. Customers also have the iTunes Store at their fingertips, giving them instant access to the world's largest catalog of over 20 million songs, 85,000 TV shows and 14,000 movies to purchase and download directly to their iPod touch.