Apple updated iMac with fourth generation Intel quad-core processors, new graphics, next generation Wi-Fi and faster PCIe flash storage options. The updated iMac brings the latest technology to the stunningly thin design and gorgeous display of the world's leading all-in-one desktop.
The entry-level 21.5-inch iMac features a 2.7 GHz quad-core Intel Core i5 processor and new Iris Pro graphics for unprecedented levels of integrated graphics performance. The high-end 21.5-inch model and both 27-inch models feature quad-core Intel Core i5 processors up to 3.4 GHz and NVIDIA GeForce 700 series graphics with twice the video memory and up to 40 percent faster performance than the previous generation. Customers looking for the ultimate in performance can upgrade to quad-core Intel Core i7 processors up to 3.5 GHz and NVIDIA GeForce GTX 780M series graphics with up to 4GB of video memory.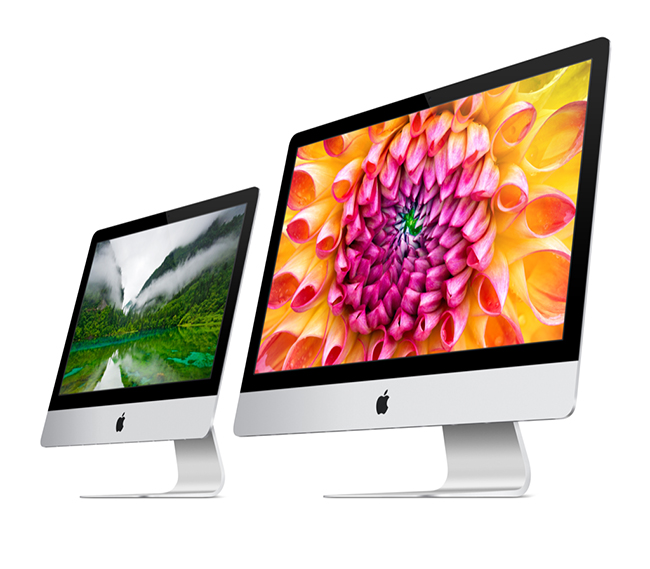 iMac now supports next generation 802.11ac Wi-Fi. When connected to an 802.11ac base station, iMac delivers wireless performance that is up to three times faster than the previous generation.
The updated iMac now features support for PCIe-based flash storage that makes Fusion Drive and all-flash storage options up to 50 percent faster than the previous generation. The popular Fusion Drive option combines the large storage capacity of a hard drive with the high performance of flash to deliver shorter boot times and faster access to apps and files. Customers can configure their iMac with a 1TB or 3TB Fusion Drive, and all-flash storage options are now available in configurations up to 1TB.
iMac comes standard with 8GB of memory and a 1TB hard drive, and customers can choose to configure their iMac with up to 32GB of memory and up to a 3TB hard drive. iMac also comes with two Thunderbolt and four USB 3.0 ports for connecting to external storage and other high performance peripherals.