Apple introduced an all-new version of its popular 13-inch MacBook Pro featuring a stunning Retina display and all flash storage in a new compact design. At a mere 0.75 inches and 3.57 pounds, the remarkably portable 13-inch MacBook Pro with Retina display is 20 percent thinner and almost a pound lighter than the current 13-inch MacBook Pro.
The new MacBook Pro packs more than 4 million pixels into its 13-inch Retina display, nearly twice the number of pixels in an HD television. At 227 pixels per inch, the Retina display's pixel density is so high the human eye is unable to distinguish individual pixels at a normal viewing distance, so images look sharp and text looks like it does on the printed page. With four times the pixels of the current 13-inch MacBook Pro, you can view and edit video in pixel-accurate HD and see a new level of detail in high resolution images. The 13-inch Retina display uses IPS technology for a 178-degree wide viewing angle, and has 75 percent less reflection and 29 percent higher contrast than the current generation.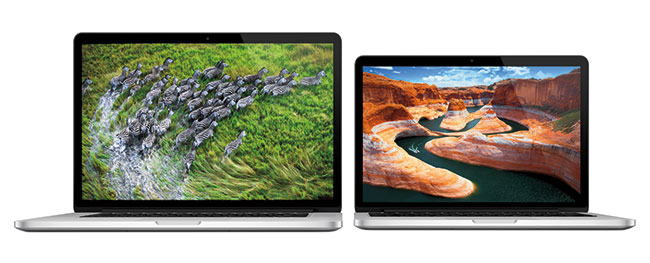 Featuring flash storage that is up to four times faster than traditional notebook hard drives, the all-new MacBook Pro is extremely responsive, whether it's waking from sleep or launching your favourite apps. Fast flash storage combined with the latest Intel dual-core processors gives the 13-inch MacBook Pro with Retina display plenty of power to run your most demanding apps with ease.
The 13-inch MacBook Pro with Retina display features 2.5 GHz Intel Core i5 processors with the option to choose faster 2.9 GHz Intel Core i7 processors, Intel HD Graphics 4000, 8GB of 1600 MHz memory, and up to 768GB of flash storage. Two Thunderbolt and two USB 3.0 ports allow users to connect to multiple displays and high-performance devices, and a new HDMI port offers quick connectivity to an HDTV. The 13-inch MacBook Pro with Retina display also features a FaceTime HD camera, dual microphones, improved speakers, three-stream 802.11n Wi-Fi, Bluetooth 4.0, and a MagSafe 2 power port.
The 13-inch MacBook Pro battery delivers up to 7 hours of wireless productivity and can remain in standby for up to 30 days. With the all new Power Nap feature in OS X Mountain Lion, your MacBook Pro with Retina display stays up to date while it sleeps. Power Nap automatically refreshes Mail, Contacts, Calendar, Reminders, and Photo Stream, and when the notebook is plugged in, downloads software updates and backs up your Mac using Time Machine.
Continuing Apple's commitment to energy efficiency and the environment, the new 13-inch MacBook Pro with Retina display meets stringent Energy Star 5.2 requirements and achieves an EPEAT Gold rating. Each unibody enclosure is made of highly recyclable aluminium and comes standard with energy efficient LED-backlit displays that are mercury-free and made with arsenic-free glass. Apple notebooks contain no brominated flame retardants, are PVC-free and are constructed of highly recyclable materials.